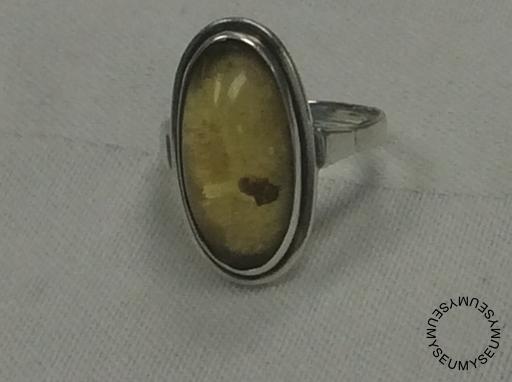 Submitted by Courtney on Jul, 25
A amber ring
The ring was shipped here form Germany in the 1950s by my grandfather who ran an import store, in Kitchener. He drove to Toronto to get the shipments. He was an immigrant from Germany during the war. Cambridge is the largest German community in Ontario. It was a gift from my grandmother. It was amongst the last shipments my grandfather picked up in the city before he passed away. The shipment came in on the docks, at the bottom of Spadina and University, west of where the current ferry docks are located. This ring had its origins in Germany but arrived in Toronto to be a memory of my grandfather, and a little piece of Toronto, brought to her hometown in Cambridge. I am very interested in finding the source of the ring and little more of its history.
How is this object or story important to you?
The ring is important to me because it is a piece that brings me closer to my grandparents. It represents a piece of my family's history and is an important gift from my Grandmother.
What does it add to the story of Toronto?
The ring came in a shipment from Germany to the old docks here in Toronto, which were farther west than they are now. It represents the industrial hub that Toronto was at the time. The docks were a conduit to providing goods for communities across Ontario.
How did you acquire it?
It was a gift from my Grandmother.