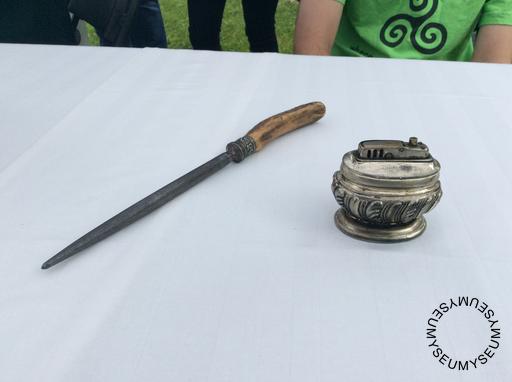 Submitted by Sean on Jun, 14
Sharpening Steel and Lighter
Bone handled sharpening steel inscribed Ian Dickinson and silver lighter.
How is this object or story important to you?
Great grandmother's sharpening steel. Inscription on steel reads Ian Dickinson. The lighter was also found in my grandmother's cabinet. Inscription "made in occupied Japan." My grandmother must have acquired through her parents, one as a trinket and the other used around the home.
What does it add to the story of Toronto?
My parents and grandparents were born and raised during the depression and had nothing of value growing up. When they had money they wanted nice things to have and keep to show social standing. It shows the changing technology and uses for things.
How did you acquire it?
Found in grandmother's basement. As a child I thought the sharpener was a wand.
How old do you think it is?
Estimate date of sharpening steel 1900-1910. Lighter would be approximately 1945-1950.