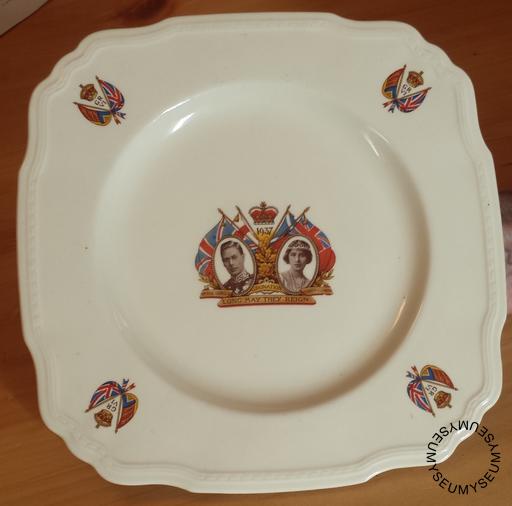 Submitted by Alexandra on Feb, 02
Dishing out Royal Mementoes: Celebrating the Coronation of George VI and Elizabeth Toronto-style
Commemorative plate from 1937 marking the coronation of George VI and the Queen consort, Elizabeth. The plate depicts colour ­transferred images of the royal couple amidst a crown, flags, and an English rose on the front with an inscription that reads "Long May They Reign."
How is this object or story important to you?
Collecting royal memorabilia continues to be a passion for some Canadians to this day. Do you remember the excited Torontonians who were celebrating Prince William's marriage to Kate Middleton by holding tea parties, buying souvenir china, and cooking dinner menus inspired by the wedding? Although the British monarchy doesn't hold as much sway in the governance of Canada today, they remain an important icon in the lives of many Canadians. One mystery yet remains to be solved regarding the 1937 commemorative plate at the Lambton House: How many were actually produced by Alfred Meakin for Louis Epstein to 'dish' out to esteemed guests, visitors, and staff?