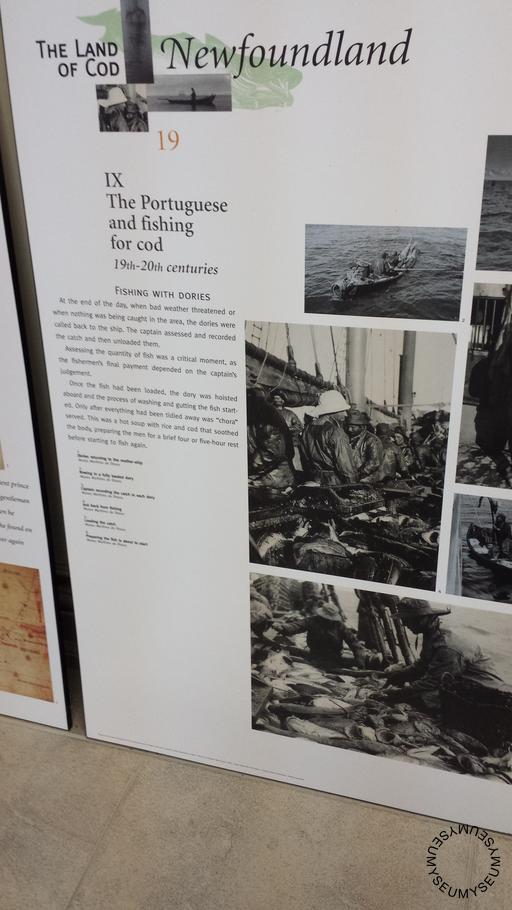 Submitted by Moderator on Feb, 02
Sailing the Seas with Codfish: From Vessels in Newfoundland to Eateries in Toronto
Panel from the Real Canadian-Portuguese Historical Museum explaining the history of Portuguese fishing for cod in Newfoundland in the 19th and 20th centuries.
How is this object or story important to you?
Many Portuguese pescadores or fishermen sailed across the Atlantic in search of codfish during the mid­ to late­ 1900s. After having undergone many voyages aboard different vessels, some decided to return to Portugal, but many decided to call Canada their new home. I was introduced to the story of one of these fishermen through the Real Canadian-Portuguese Historical Museum, inspired by the museum's many panels on the history of their arrival on the coast of Newfoundland. His name is José Peña and he started his journey at sea in 1951 at the young age of 15. Peña would spend many years exploring the waters and coast of Newfoundland before he would finally settle down in Toronto in the late 1960s with his family. So for some Portuguese, codfish carries a significant meaning. It is what brought them to Canada and to later seek a home in Toronto, where different immigrant groups have come together to share the tastes from their homelands. Even in Little Portugal many other eateries can be found, such as Italian, Asian, and of course, Portuguese. If there's one thing I have learned, it is that food is one of the ways different immigrant groups have been able to connect in the city.