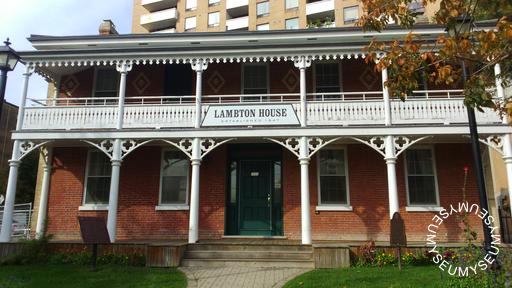 Submitted by The on Jan, 20
The Curious Case of the Lambton House Sign
Have you ever gone treasure hunting in your home? Toronto's history may be buried there. It may sound silly, but you'd be surprised what you might find. As a city created from former townships and villages, Toronto's heritage is made up from the histories of these old municipalities. What may seem like an ordinary object to some may actually have great story to tell about one of Toronto's neighbourhoods. This was the case for the old sign that hung outside of Lambton House, a historic hotel and tavern in Toronto's west end community of Lambton Mills.
How is this object or story important to you?
The wooden sign hung outside Lambton House from around 1950 until at least the 1960s (the exact dates are unclear) and welcomed weary travellers from all over Ontario to the hotel. By this point, Lambton House was well established and respected in the community. Like the sign says, Lambton house is an Old York Landmark, referring to the former municipality of York which encompassed Lambton Mills. York legally became part of Metropolitan Toronto in 1953- around the time the sign was in use. Known for its good food and entertainment, Lambton House opened in 1848 and became a stop on the stagecoach route from Toronto to Dundas. The painted horse on the sign is a reminder of this period in Lambton House's history. Lambton House operated for 140 years until its closure in 1988. It was transformed into an interpretive centre by Heritage York in the early 1990s. It was at some point between the 1960s and the closing of the hotel that the sign mysteriously disappeared. Madeleine McDowell, Membership Secretary for Heritage York and lifelong resident of Lambton Mills, recalls that many things went missing or were taken as souvenirs during this time. Years past and the sign became a distant memory; but, as luck would have it, the sign returned to Lambton House. McDowell remembers the call she received one summer a few years ago from a man in Perth, Ontario. The man grew up in the area and wanted to bring his granddaughters for a tour of Lambton House to learn about her family history. Gladly, McDowell accepted. After the tour, the man presented McDowell with the sign. "I thought he was just showing it [to me]", she remembers. However, the man returned the sign to Lambton House, because he felt that's where it belonged. For preservation reasons, the sign now sits in an upstairs room in Lambton House. Excitingly, Heritage York is planning on recreating the sign in order to hang it outside. The Lambton House sign will once again welcome visitors to this treasured spot in Lambton Mills. It is thanks to residents and former residents of Toronto, like the man from Perth, that Toronto's history is so rich. So what bits of Toronto's history are hiding in your house? You'll never know unless you look!