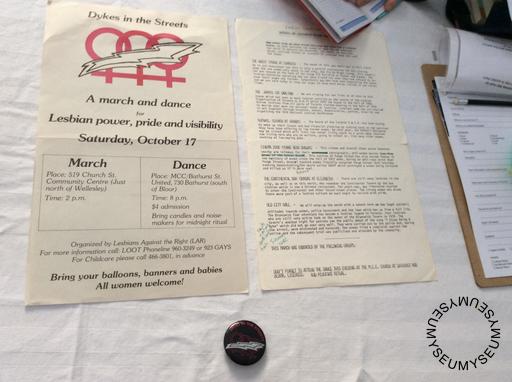 Submitted by Amy on Aug, 28
Dykes in The Streets March papers
A poster for the Dykes In The Streets march organized by Lesbians Against the Right, and a matching button on October 17 1981,
How is this object or story important to you?
I like that we have three women symbols and a thunder bolt, and we we're making CHANGE! It's a march and a dance, which was at MCC. I have no memory of the midnight ritual, though I know I was there. Lesbian power, lesbian pride, and lesbian visibility. It was not the first Dyke March in Canada, but it was the first one in Toronto. For more info you could call the LOOT phone number - LOOT does not exist anymore, but it was a support line for lesbians. It also has the 923-GAYS number, where you can phone for info about different events. The poster says to bring balloons, banners, and babies. (The babies being from straight relationships). 300 women came to the march, and gay men lined up on the sidewalks and cheered us on. We were both afraid and excited. We chanted, LOOK OVER HERE, LOOK OVER THERE, LESBIANS ARE EVERYWHERE! On the back are definitions of lesbian power, lesbian pride, and lesbian visibility. It addresses the groups that had organized a witch hunt against lesbians and harassed us. In the February of that year was when the bath house raids happened, and we helped to organize against that, but we also felt something specific was going on against lesbians and we wanted to organize around that. We felt that within the lesbian and gay movement that lesbian got lost in the shuffle, and the issues weren't as visible or apparent or even spoken about, or that most of the most public issues were issues relating to the tax on gay men. In the march we stopped at what we called Lesbian Landmarks. Like The Quest, behind which was the Fly By Night, a lesbian bar that combined all different kinds of lesbians and was very inclusive, but was shut down. We stopped there to protest it being shut down due to the workers refusing to take lower wages. Some gay men boycotted The Quest in solidarity. We stopped at 342 Jarvis, home to LOOT from 1977-1980. McPhil House, run by the YWCA, where low income and poor women could find an affordable place to live. We went by Cinema 2000 at Yonge and Dundas, which had shown Snuff Films, because we wanted to address Violence Against Women. We went by the Continental Bar, where lesbians hung out in the past. Finally we stopped at Old City Hll, to address the legal system and police harassment, and specifically the Brunswick Four. This was a way of trying to bring attention to systematical and institutional violence against lesbians. I also have a marshall sheet. It's long and detailed, about our legal rights and such... A lot has changed since then, in relation to the current Dyke March.
How did you acquire it?
Was part of the march and helped organized the march.
How old do you think it is?
From 1981.