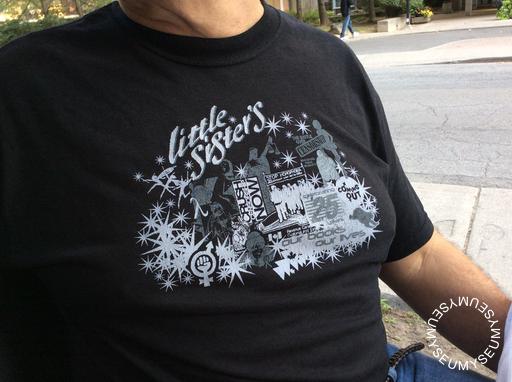 Submitted by Gary on Aug, 28
Little Sisters T-shirt
In the late 1970s and 1980s, bookstores began having the content they ordered from the US examined when it crossed the border, and more and more of it was being seized. Material with depictions of queer sex, anal sex, etc., was prohibited by border regulations. This greatly impacted Little Sisters in Vancouver, and Glad Day in Toronto, where someone (named Kevin) who worked at the bookstore was charged for the material he had ordered. I was involved in defending this man. Others involved in Glad Day and Body Politic were also involved, which later evolved into a larger group regarding customs and censorship. Public meetings were organized, including some at the 519, with various speakers. There were public meetings and picket lines. There was also the Joy of Gay Sex Case, which was one of the books seized. I was one of the 'expert witnesses' involved with the Little Sisters case. The public meeting in Vancouver included myself and Pat Califia. The States' argument revolved a lot round BDSM. I talked about the social organizations and sexual organization of queer people, and how the power dynamics in same sex relationships are different than in heterosexual relationships. They wanted something about violence and power, so I prepared an answer that was incredibly boring, but they ended up moving onto something else. The legal decisions in my memory were about saying Canada Customs' needed more clarifications, but weren't decisive victories. That came later, including the Bad Attitudes Case related to Glad Day in the 1990s. More Canadian material, especially lesbian, began to be produced in response to this, since it was harder to get stuff from the US. This story is also related to other issues involving the Canadian Film Censorship Board and the Six Days of Resistance against it, as well as what was happening within the feminist movement and the sex wars at the time. Bad Attitude was a lesbian magazine that involved, but was not entirely, BDSM. Pornograghy's definition within a same sex situation was considered different than in a heterosexual situation. Tim McCaskell: 500 ppl walked down Yonge Street and blocked Yonge and College, around the same week a demonstration about the Rodney King riots and the shooting of a black youth in Toronto occurred. The strange thing was even after the bath house raids, connections had been made between homophobia and racist harassment by police. At this time little connection was being made between the two events. You can see the unraveling of this alliance, which included different kinds of marginalization. No solidarity was offered or asked for by the other side. It became either side or identity politics dominating both sides. This was in 1992. Gary: This happened after the switch from thinking about pornography in terms of obscenity and community standards—queer depictions of sexual activity were always considered more obscene and offensive than similar straight porn. The Butler decision shifts it towards discussions of harm, especially towards women, supposedly including Bad Attitude, but continued to carry the previous homophobia and impact marginlized communities most of all. The bookstores somewhat won in the courts, but it did not translate to making things easier for the bookstores. And it became difficult for them to do well financially because of the court fees and because they could not sell the books that had been seized. For these reason, Little Sisters became more of a sex shop in order to survive financially. Going back to the issue of solidarity between the black and gay movements...I was recently at a Black Lives Matter demonstration in Toronto, and it was very inclusive, queer-positive and trans-positive, but there was not a visible presence of LGBTQ people. I know there is in the US, but it seems less so in Canada right now.
What does it add to the story of Toronto?
The story has a connection to censorship as a central political issue in Toronto, and Ontario Film Censorship, and the presence of Glad Day bookshop in Toronto. It impacts film-goers, film-makers, and the LGBTQ community. Many people may be surprised to hear about these things happening in Toronto, which has a reputation of being very open, but there is a long history of sexual censorship in the city that has taken various forms and experienced by marginalized communities.
How old do you think it is?
It's from 1992 or 1993.